16 Most Anticipated Albums of 2012
Sorry for the joke graphic above. Thought I would throw an 2012 alien apocalypse joke in being that 2012 on the Mayan calendar states that the world ends in 2012. Anywho, 2011 was a crazy year for music to say it. With bands like Radiohead, The Decemberist's, and The Strokes releasing new albums this year it's been a good year. No, wait I take that back; IT'S BEEN A GREAT YEAR! So with 2011 winding down here is my list for the 15 most anticipated albums for 2011. This is the first time I have posted this list and what a better way to do so then to feature it onBuzznet.
1. Muse - (October 2012) Anytime news hits the interwebs of Muse making a new album, I get all giddy inside. As of matter of fact, 2009's "The Resistance" was nothing short of a masterpiece and "Absolution" made my list of best albums of the the decade. Now that it's been reported from Muse's manager that the band is indeed in the studio recording a new album due for October of 2012 it makes me wonder what Matthew Bellamy and co. will pull off this time?



2. No Doubt - (TBA) It's been over 10 years since No Doubt released their last effort "Rock Steady." Normally this would be listed under "I'll believe it when I see it" (The album was supposed to be released not only in 2011 but also 2010 as well) but being I have read numerous posts from credible sources and the band itself that the new album will drop in 2012 it has me wondering witll they go back to their SKA roots, or will we get another New Wave/Pop album like that of Rock Steady? Parts of me are hoping for SKA but I will be happy either way as it's been too damn long.
3. Silversun Pickups - (Spring 2012) At first this band started to grow on me once they first hit the scene. But it wasn't till 2009's "Swoon" that I became a big fan. I instantly fell in love with "Swoon" that i would put "Panic Switch" on repeat during workouts just to hear it and it left me begging for more. Let's hope they keep going that route.
4. Mumford and Sons - (TBA) Another band that is slowly becoming a big deal is non other than Mumford and Sons out of London, UK. They had a big year in 2010 and in 2011 their popularity soared to bigger heights than anyone expected. The band has been in the studio working on their sophmore debut and has been debuting new songs at their concerts.
5. Paramore - (TBA) Paramore has gone some drastic changes in the past 2 years. First two of their band members quit leaving the band as a trio. The band also started their "Singles Club" where you can purchase unreleased singles that will not be available on iTunes or any of their albums if you are needing a Haley fix.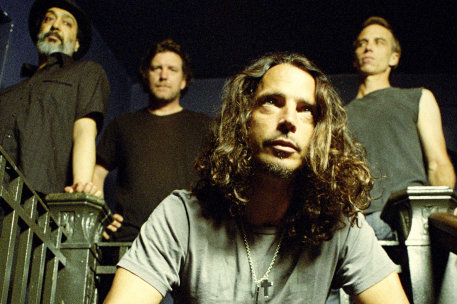 6. Soundgarden - (TBA) 1997 was a pretty sad year for Alternative Rock fans. Soundgarden unexpectedly announced they were calling it quits. I remember it like it was yesterday, I was in the 8th grade and big into Alt-Rock, I was listening to the radio while in bed and then after Burden in my Hand played, the morning jocks (Dave and Tom from 94.5 KATS in Yakima, WA) announced that Soundgarden had broken up. My day was complete shit! 13 years later the band unexpectedly announces they are reforming. I have my doubts about this as the last single they released "Black Rain" left a bad taste in mouth. But hell it's Soundgarden!



7. The Shins - "Port of Morrow" (March 2012) I'll be honest, I was really hoping for a new "Broken Bell's" album as their first effort was one of my favorite albums of 2010. In matter of fact it's also one of my most listened to albums as of recent. Don't kid me wrong, I do enjoy The Shins, but their last effort 2007's Wincing the Night Away I wasn't overly impressed with it did have it's moments, but it was nothing like Chutes Too Narrow. Maybe the band will go back in that direction?


8. Madonna - (TBA) - I'll be honest, Madonna is a bit of a guilty pleasure and her last four albums have been nothing of remarkable. Recently she signed a three album deal with Interscope and her next album is due in 2012. Let's hope she doesn't incorporate Dubstep into her material.
9. The XX - (TBA) I got hooked on this band after I covered them at 2010's Sasquatch Festival. I also got the opportunity to cover their Endsesson in Seattle. Their first album is nothing short of amazing and their sound is unique. This one has me really excited! If you haven't heard of this band, do me a favor, go to iTunes and buy their debut album, you will thank me later.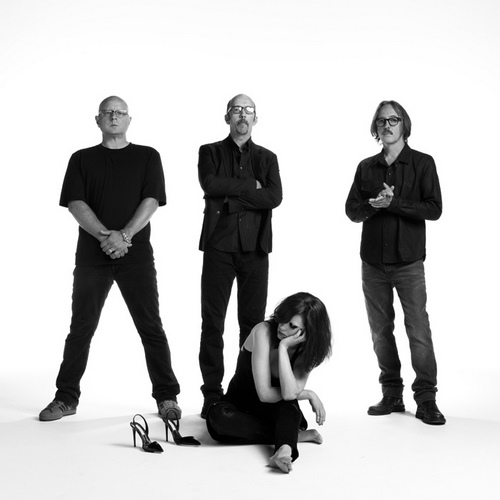 10. Garbage - (Late March/Early April 2012) The band announced to Billboard that their fifth studio album is currently scheduled for an independent release in late March or early April 2012, with Butch Vig confirming, "We're looking at this as free agents. We're out of all our corporate responsibilities from the past, and initially we thought that was terrifying but now we think it's liberating." About damn time if you ask me!
11. Sleigh Bells - "Reign of Terror" (February 14th) Sleigh Bells had a great 2010 and with a performance at Sasquatch this year, their popularity went through the roof. Will they continue with their Sophomore effort "Reign of Terror?"
12. Morrissey - (TBA) As much as I want a reunion of The Smiths, I know that the only way that will happen is when hell freezes over. But I will settle for a new Morrissey album and a chance to shoot one of his shows. Also for all you Smiths fans, Morrissey will be releasing his autobiography in December of 2012.
13. Rancid - (TBA) The last time Tim Armstrong and co. Released a new album was 2009's "Let the Domino's Fall." And it made my worst albums list mainly to me it didn't feel like a "Rancid Album." However I was pretty harsh as it the first time Rancid had released any new material since 2003. Now that the band is in the studio working on their next album, we wont have to wait 6 years for a new one.
14. Transplants - (TBA) So let me get this straight, a new Rancid album and a new Transplants album in 2012? Am I dreaming? Could 2012 be the year of Tim Armstrong? Please tell me they are playing Warped Tour this year and I will be a happy camper!
15. Grizzly Bear - (TBA) Grizzly Bear's third album, 2009's Veckatimest was one of the best of the year. Not only was it potpurri of Indie meets Psych, but the fact that it kept you tuned in the entire time. In December 2011, Ed Droste announced that their next album would be released some time in 2012, I can't wait!
(LAST MINUTE ADDITION) 16. Gnarls Barkley - (TBA) Yes you heard it hear first, accroding to Cee-Lo Green during this year's Virgin Fest, Gnarls Barkley will be releasing a new album in 2012. I will take this as I know it will be a long time before a new Broken Bells album is released.
The "I'll Believe it when I see it" File
Green Day: When it comes to Green Day, they are the most unpredictable band on the planet. There has beeb rumbling that they are in the studio recording a new album and they have played secret shows playing new material. However the band is also in the process of making their broadway musical "American Idiot" into a film. So anything is up in the air... Let's just hope it's not another concept album, i'm starting to miss the old Green Day I grew up with.
Dr. Dre - Detox: You know what, I am going to put this under the "When Hell Freezes Over" file. It's been 10 years and no signs of Detox hitting the shelves nor has their been a solid release date. At this rate I seriously doubt this is going to be released. It's pretty sad that a Guns N Roses renunion with the original members might happen before Dre releases Detox. Then again it's pretty funny that Van Halen's new album will drop before Detox does. Actually I'll step it up one more, I predict The Postal Service will release a new album before Detox hit's the shelves.
You'll
♥
Loading related posts from sailthru...
---
blog
Bryan Singer has tweeted a first look at Jennifer Lawrence reprising her role as Mystique in X-Men: Days of Future Past!
HYPABLE
Partner